Presenter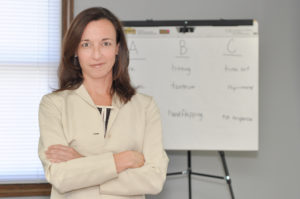 Dr. Melissa Olive, Ph.D., BCBA-D, LBA (CT, NY, and LA)
Executive Director
Applied Behavioral Strategies LLC
New Haven, CT
Date: January 28, 2020
Location: Bay Path University, Ryan Center, 1 Denslow Rd., East Longmeadow MA 01116
Time: 6-9 pm. Dinner will be served (6-6:30, registration, welcome and announcements, hors d'oeuvres, 6:30 – 7:00 dinner, 7:15 – 8:45 Presentation)
Cost: $75.00 (Dinner, Presentation, CEUs included)
Many children with autism spectrum disorders develop food selectivity or what is also called "picky eating." It is not uncommon for children to restrict their diets to one brand of chicken nuggets, to refuse to eat colored foods, or to consume only pureed foods. This training will focus on behavioral strategies that have been demonstrated to be successful in helping children learn to eat new foods. Participants will also learn what medical, behavioral, and related service assessments should be completed before starting feeding therapy as well as the ethical issues that surround providing behavioral therapy to address feeding concerns. The instructor will present data from a home-based feeding clinic comparing outcomes from intensive models versus outcomes from on-going therapy. Finally, participants will learn how to monitor progress for feeding interventions. Time will be available for questions and answers throughout the event.
DISCLAIMER
This session is insufficient to prepare you to offer feeding services.
CEUs provided at conclusion of event
CANCELLATION POLICY
Cancellations will not be refunded after 1/13/2020
On-line Registration
Registration is closed for this event.